One evening, in August 2014, Veronika was collecting her son from kindergarten in a town near Donetsk, just like every other day. A ceasefire had been promised, she thought, and there had been no audible shelling for one or two weeks, then.
She bundled her son and the next-door neighbour's daughter onto her moped and set off home. For some reason, her son was nervous, and wanted them to stop awhile. But all was quiet. She pointed out to him that people were out in the streets, sunbathing on the beach, relaxing. All was fine; all was calm. They stood for three minutes, and suddenly the sky tore itself apart. Veronika's eyes watched as mines flew overhead, enormous, falling simultaneously, five in a layer. Her ears heard them explode as one. Her head felt the reverberation. Her legs failed.
Understanding that she had two children in her charge, one of whom – the neighbour's daughter – suffered from cerebral palsy and was unable to flee to safety, Veronika gathered one child in each arm and ran. She put them down by the side of a concrete drainage block, and threw her own body atop to protect them. She had 18 shards of shrapnel in her torso, but felt no pain. A second explosion. Her son wriggled his arm from underneath her, and shrapnel bored through his tiny bicep to the bone. A piece of metal pierced the left of Veronika's skull and burst through the other side, destroying her right eye in its path. More shards were embedded in her back. She had one goal: not to lose consciousness, to find someone and explain where to take her children. She hung on until the end. Raised her head. Saw a man walking. Shouted to him. Gave him her phone, the keys to the moped, and showed him her daughter's telephone number. "Call her," she said, "and tell her to come and pick up my son." Then she passed out.
I first met Veronika, in summer 2015, as I conducted field research into the conflict in Eastern Ukraine. That March, a woman from a church had taken Veronika and her family to Kharkiv, where she could receive better treatment. We sat at wooden benches in a pine forest on the outskirts of the city. As we talked, a girl from a neighbouring family drew princesses in my notebook. Veronika had developed a way of tapping her prosthetic eye with her fingernail for emphasis:
Look. Look. You see? It's glass. Look, listen: tap, tap, tap. You can see how it went through my head here. There's a hole. You see? And look at my side, here. The flesh is missing.
Veronika described her experience of conflict. She explained the disappointments and hopes that had been stirred by her move to Kharkiv, and her determination to claim her rights. Her narrative encapsulated the devastating pattern of harm caused by conflict: human trauma, population displacement, and the destruction of infrastructure.
My research was investigating how war affects human life. At the time, analysis of the "Ukrainian crisis" had devoted much breath and ink to the workings, motivations and strategies of global powers.
I was driven by the belief that the lives of ordinary people, caught up in this tragic situation, had a place in that debate. I wanted to connect the dominant state-centric perspective to human consequences; abstracted state machinations to their real impact; and statistics to the individual lives they represent.
I was unconvinced by the dichotomous conflict narrative, which, at its extreme, pits Russian terrorists against non-violent proponents of Ukrainian unity, or peaceful Donbas civilians against a fascist Nazi junta, depending on your point of view.
In an environment that was becoming destabilised and polarised, I sought to understand how ordinary people interpreted the events going on around them. It transpired that war is not as simple as "us and them." That "where we are" does not necessarily reflect "what we think," although it may do. Displacement does not neatly align with an ideology of Ukrainian unity. Remaining does not necessarily imply pro-separatism, or pro-Russianness.
Rather, decisions around flight are informed by physical and psychological abilities to stay, and linked to practical issues, threat perception and hope. Individuals navigate a complex of personal impulses and calculations, and group dynamics, creating and re-creating their own narratives.
Disinformation and an information vacuum have done much to obfuscate these subtleties. By examining more closely human stories, we can transform a binary approach to war that is false, divisive, and damaging.
A year and a handful of ceasefires since I met Veronika, fighting persists in the East. The beginning of 2017 was marked by violence of a long unseen intensity that many had hoped would never resurface. There have been peaks and troughs of violence – but no peace. Renewed local and international momentum for peace initiatives alternate with violations of the ceasefire.
Nikolai, a mediator and psychologist from Donetsk, is developing a crowdsourcing project to create a "living dialogue for peace and the resolution of issues crucial for Ukraine, Russia and Europe." He tells me: "Moving away from military adversary is a long, complex, and heavy process. There is less shooting, now, but rapprochement and reconciliation are far off." At the same time, the situation risks fading from the memory of a global community preoccupied with new disasters.
This article traces the path I took from Kyiv to Donetsk. It gives voice to a fraction of Ukraine's personal narratives from both sides of the contact line, and seeks to inspire new insight. Each account should be read not as a simple or isolated anecdote, but as one story among many that, when heard together unfold a violent pattern of war in the most mundane of everyday life.
All names have been changed.
***
I arrive for the first time in Kyiv and am struck immediately by its leafy green beauty – an explosion of trees. I absorb the city's hip summer vibe, meandering past clusters of musicians who entertain passers-by long into the balmy evenings. I am disconcerted that this does not feel like the capital of a state undergoing armed conflict.
And yet, traces of warfare materialise at every turn. A roommate is training combatants and others how to perform first aid in a conflict zone. A sign at the railway station details hotline numbers for internally displaced persons (IDPs) arriving from the Donbas and Crimea. The city is awash with them, my taxi driver insists, there are over five million here now.
There are not.
Volunteers collect money for the army outside the corner shop, and on the adjacent street a center has sprung up to distribute humanitarian aid to IDPs. There are piles of clothes, but people are in need of "non-food items," I learn: blankets, sheets, a plate, a knife, a fork, a spoon, and there is not enough to go round. Can I source this cheaply? I will try.
I fail.
As I travel east, awareness of other urgent needs exposes the naïve hastiness of my promise.
I conduct meetings with humanitarian experts, and later meet Anna, the colleague of a friend for coffee. It transpires that she too, is an IDP. She moved from Donetsk last July [2014], when hostilities precipitated the relocation of her office and its staff to Kyiv. She has since moved jobs, and will later become concerned about how to keep up the luxury apartment that her previous employers found for her. But she moved to Kyiv "normally, of course," she says. "Properly."
Anna exudes energy and ambition. She likes Kyiv, but when she first moved, she could not bear the thought of her mother in Donetsk, as shells rained down. She phoned her mother nightly and implored her to join. She could not sleep; she could not be without her. "My brother, my grandmother, that's ok", she says, "but not my mummy." Eventually her mother came – Anna can be quite insistent, she thinks – leaving behind her husband, Anna's stepfather, who could not abandon his own elderly mother.
Her mother was disoriented at first, and cried often. She would telephone Anna in a panic from the shop across the street, cast adrift in this new city, and unable to retrace her steps. She's getting used to things now.
Some people see displacement as an opportunity, Anna says. Others are not exactly lazy, but they are not proactive and are waiting for change.
The meeting is cut short. My new acquaintance must dash to her salsa class and French lesson. She already speaks fluent Russian, Ukrainian, Italian and English, having worked abroad.
"And when I speak Ukrainian," she says proudly, "people think they can tell me which village in the west I am from.
Will you come to Donetsk?"
"Maybe," I say.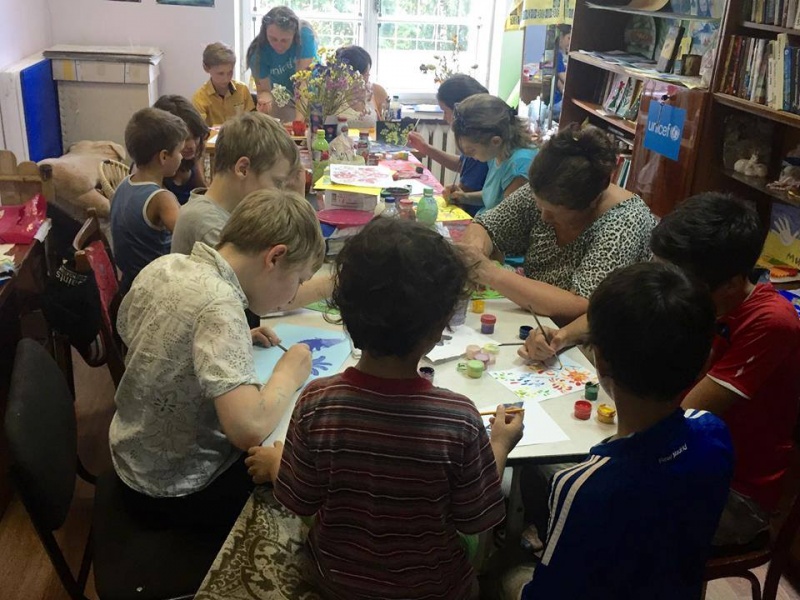 Displaced persons together with local children while learning at "AK-Tsentr" cultural and adaptation centre, Kharkiv
***
I arrive in Kharkiv. Soldiers in the station. Tension. A clearer glimpse of war.
It is 9am. A row of desks at the railway station, marked "help for IDPs" is manned by volunteers from local NGO Stantsiia Kharkiv (Station Kharkiv), and regional representatives of the Ministry of Social Policy. 
A week later, myself sitting behind the desks, I observe interactions between volunteers and IDPs, formulating a cross-section of the complex needs and life circumstances that pattern across this population. With limited resources, the volunteers assess the gravity of each case. The first three women that morning explain their situations. At times, tears slide down their cheeks, in what I understand to be a discordant mixture of frustration with the system, desperation, and relief to be heard. They become composed as they sip from little cups of water. I will come to rely on little cups of water quite often, during interviews.
The volunteer response to the influx of IDPs in Kharkiv is striking. In summer 2014, as trains emptied onto the platform, bodies packed into the station. Young, old, infant, pregnant. Many had nowhere to go. Whole families slept nights huddled there. A group of Kharkiv locals came together. They self-organised to find shelter, food, and clothes for those arriving. They worked tirelessly and generously.
People risked their lives to evacuate people from the "non-government controlled areas" (NGCA), negotiating access and distributing resources. I speak to Zhenya, a middle-aged lawyer, whose three-year-old daughter busies herself arranging plants and seashells on the desk. She counts them in English for my benefit.
"Yes, for a long time, I was what is called a 'wild volunteer'" Zhenya smiles, acknowledging the unlikely description. One day, Zhenya found herself packing provisions into the car, she says, and set off for the NGCA to distribute them to those in need. She would often go to help, until the government introduced a temporary order to regulate transit across the frontline, which required all persons to hold an official government-issued permit (propusk). As winter set in, and people began really to go hungry, they would not be able to stop themselves from distributing aid en route to their destination. Once a little boy came up from underground, and stopped them. His grandmother was bed bound, he said, and they had nothing to eat. He just asked for a sweetie.
There are pockets of help in all corners of Kharkiv, Zhenya says. Now some of this self-organised volunteerism has morphed into registered charitable foundations. By summer 2015, their work was organised around: information services, the distribution of humanitarian aid (nicknamed 'gumanitarka'), legal and medical consultations, livelihood development (and micro-finance initiatives), psychosocial support and targeted care. At "AK-Tsentr" cultural, adaptation, educational and creative projects open to all were encouraging integration and learning.
The original volunteer manpower is now bolstered by willing IDPs. Many of them are unemployed, and feel in need of purpose. Some would go mad otherwise, they say. Others say they are serving their country. Still others are looking for social connection, or to help those worse off.
The influx of people has much attenuated in recent weeks, tempering an urgent imperative for immediate action. There is disapprobation of "professional," acquisitive IDPs with a sense of entitlement. This seems to lack sensitivity to the compound difficulties that people are facing, I think, but I observe a few IDPs carousel between organisations with notable regularity.
I translate into English an application for exhausted volunteers to participate in "burnout training." Yet the spirit of dedication to the cause – and, in many cases, to Ukraine – prevails.
There are people who fled the bombings, people who feared economic degradation, and people who support a unified Ukraine. There are people who never decided to displace, but somehow found themselves here. Some hung on until the last. Others left before anything really started.
***
Ivan is 23. He lives in Donetsk, but has come to Kharkiv for some weeks for his studies. He works on the railway, and is looking to take on some supervisory or management duties. At times, he is full of anger. Have I heard that there is a war in the east? He used to earn quite well – 400-500$ a month. But now he does not earn so well. America and Russia are fighting a war in Ukraine. And people in Kyiv have no idea what is going on. But at least he still has work. There is a war going on, you understand? At home he grows cherries and strawberries. He misses that. They are not as sweet here. But there's a war going on, you understand? He will go back at the end of the week. He buys a cheap bottle of shampoo from an expensive shop so that he can give a birthday present to a friend in a fancy gift bag. Life goes on, people have birthdays. But there's a war going on. You understand?
***
Maria and Sergei, a couple nearing retirement age, spent a month in their basement after an "unpleasant event." When bombardment first began in Pervomaisk, they fell under fire. They are outside. Sergei is cycling, and Maria is running alongside. Then Sergei shouts – shelling! They stop. They are standing by a tree. About 1 metre thick. Shards fly. And the tree protects them. Shards fly on either side. And the tree shelters them. It is strange because they've been walking that route for 30 years, but have never noticed that tree.
For a long time after that, they could not leave. They stayed in the basement for fear.
They recount the politics and logistics of bread in detail. When the events started, the armed men would steal from the shops. They would come, shut up the shop, and take whatever they needed. The owners would flee, and they'd steal everything. It turned out that bread was being made in Gorsk and Popasna, which had ended up on the Ukrainian territory. Cars started to arrive in Pervomaisk … people were bringing bread to sell. Later, they were forced to give it out for free. So they stopped coming. Once they were left without bread. Four days. It was offensive.
Then they found out that it was being distributed in the bomb shelters. A neighbour from the first floor had seen them, completely by accident. She told them that there were people living in basements elsewhere, too.
The first time they come, they stand not far from the house.
Maria and Sergei run out. They give Maria bread, but not her neighbor who is 18 months younger. They say, "Go out and work, you look normal."
There was another week with no bread. Then they started bringing it from Stakhanov. They got a list of people living in basements: 150g per person. But there were days when they gave out 50g. Actually, Maria had never eaten so much bread.
In August, there were seven from their block left in the basement. Each day one stairwell, by rotation, took responsibility for fetching bread. They were under constant shelling. Standing in line, you could come under fire at any moment. To preserve sanity you have to keep glancing outside. But then, you may actually be driven mad by the fear that someone sees you.
They had prepared to spend three days down there. They thought the Ukrainian army would come and liberate them. But three days, one week, a month and a half … it became clear that they were not going to.
The most frightening thing was that it became cold to live in the basements. There was no light, no water, no telephone reception. At once after the first shelling they turned everything off. Water first, then gas, then light. They started to cook from the kettle. Maria learned how to stir in boiling water to warm things. After a little time kasha (porridge) would become edible. Then she learnt how to boil eggs. You get the water boiling in the kettle, and then pour it over the eggs. Then you put the water back in the kettle, and repeat. By about the fifth time, it's ok – the eggs are a little raw, but somehow you can eat them.
They stayed like that for about a week. Then they understood. Ah yes, then they turned out the lights.
Subsisting in a dank environment, households rubbed along together. There were snags, particularly during heavy shelling, but no fights. Some prayed. Others swore about President Poroshenko or Putin. To keep up to date on affairs, they brought battery-powered radios down. Other major sources of information were word of mouth, and the rumour mill. Maria and Sergei were suspicious of both sources.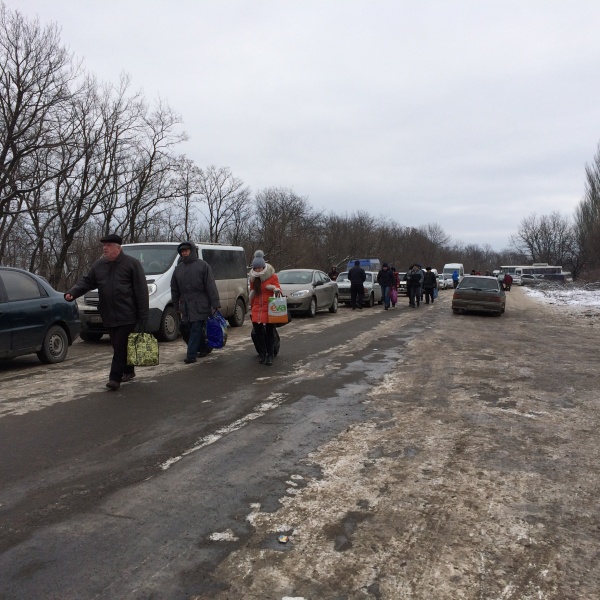 Crossing the demarcation line. Photo: Alisa Sopova
Why did they leave? Because of the damp of the basement. It had already begun to rain; the air was rancid. It became cold, very cold to sleep at night. Sergei began to get sicker and sicker. Things got worse and worse. Their son rang from abroad, persistently, calling them to him. When they saw that they would not be liberated, they took the decision to leave. From the start, leaving was for your own life. Because they simply kill. They fire. They shoot. Bukh bukh bukh … When firing comes from within the city itself they fly for less than a second. You do not have time to run, or even to react.
One day, somehow, they came to themselves, they say, and left in a car driven by one of the volunteers. They went to stay with their son – thank goodness, they still had six months left on their visas – before returning to Kharkiv.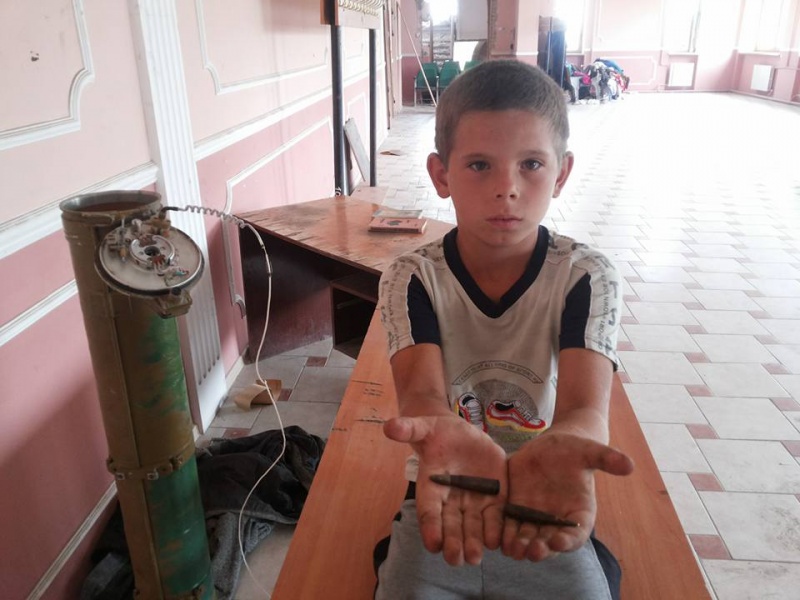 Boy with dangerous "toys" (Nikishine in Donetsk region). Photo: Alisa Sopova
All spring Oleh's girlfriend was trying to persuade him to leave. He wanted to stay. She said, because of the business. And because of pride, or duty, he thought. Not to mention the certainty that the town would be liberated within three days. Oleh was an activist. They both were. They had been involved in the local Maidan, when work commitments allowed. When a list of "undesirables" or "enemies of the people" was posted in a public place, Oleh was a little insulted not to see his name there.
As the conflict intensifies, Oksana becomes frightened. She is in a constant state of stress because Oleh has been threatened. People have come to his shop, they know where he works, what they stand for: the unity of the people.
Oksana's main concern is to take care of her child. To protect her from shelling. No place is definitively safe, she reasons, but there are places of heightened and lowered risk. She tells her child: A bad history is being created; it is trying to separate people into two groups; each considering themselves right, and others wrong, according to their own terms.
So the two of them go, leaving Oleh behind. He is doing repairs on the bathroom, investing in a Donbas future that he will not live out. Oksana hopes that after 20 days, one month, they will return. But the situation deteriorates. Oksana's father and her brother go to Russia. There are some ideological differences between them.
The day after her departure, Oksana receives a phone call. Oleh is in prison. She starts writing to friends, journalists, activists, trying to create a scene. They have taken him into captivity: "We're going to kill you." They access his social media. Write notes in his name. Force him to write notes. They take him to be shot. Beat him. Rough him up. "We're going to kill you." They do it all with a bored look. 
And yet, by some accidental turnout of circumstances, Oleh reflects, he stayed alive. The separatists appeared to have little interest in his shop or his van. After they had released him, he spent one more day in town to finish business and warn friends, and set out to Kharkiv.
Perhaps he would have stayed in his hometown had there been some capacity for freedom of speech, he wonders.
Oleh has almost died once, he says. He is clearly still here for some reason. He is needed. Now, inspired by the "heavenly hundreds" who gave their lives on the Maidan, he forbids himself from fear.
Oleh loves Kharkiv. Indeed, often, he does not feel like an IDP. Kharkiv, Lviv, Kyiv – the whole of Ukraine is his home. He is a volunteer, now, and reasons that this to be a better way to serve his country than fighting. Ukraine needs a different sort of help, he thinks, not flag waving, but concrete steps to improvement.
***
Mariam is an artist. A loan parent with three children. She is from Donetsk, but was forced to leave, she says, when the shooting and bombing started. They hung on until the end of October.
The fighting started. The children were frightened. They would jump awake at night, as explosions reverberated across the city. Terrible noise. Terrible fear. The thunder of war. People walked the streets with machine guns. Tanks went by the windows. The children were frightened, and Mariam was frightened. She was frightened to send them to school; a school which was no longer Ukrainian, but of the "Donetsk People's Republic" ("DNR"). She was frightened for herself, and for her children.
More than that, Mariam is for the unity of Ukraine. It seemed that enemies had appeared on the streets, she remembers, and because of this … well … she was just frightened … The war came, there were explosions, bombs, the children were afraid.
Her parents stayed, though. They do not want to leave, she says. They are of an older generation, and are more afraid of losing their amenities, and way of life, than their lives. They think differently to her. Mariam used to visit often, until the propusk system was introduced. She hasn't been back for a long time, now. She has no way to be sure of getting there without a propusk, actually, and no more of returning.
Now they live in a village along the border of the Kharkiv and Donetsk regions. The area is safe, close to home, and dense with the displaced. Sometimes her former husband comes to stay. He comes and goes, Mariam recounts, but he doesn't contribute financially, of course. She finds rural life basic – a stark contrast to Donetsk. There are no amenities. No indoor toilet, no running water, no heating, no bath, no shower, no fridge. Water must be fetched from a nearby stream, and drinking water from a pump 10 minutes away. Life is hard. Especially in the winter, when you feel constantly frozen. Mariam has already begun thinking about how to get firewood. Actually, she doesn't know, quite, how they are going to get through.
The children are settling into school, but Mariam has ended up unemployed. She has resigned from her job in Donetsk, and is now looking for work. But there is none. She used to be well paid, and now she is out of work. Her ideal would be to find something that fitted her specialist training, but really she would welcome any work. She is living off benefits, she says, and humanitarian aid. Her voice indicates shame for the first, and gratitude for the second; they only survive thanks to the humanitarian organisations, to tell the truth.
The refrain "out of work" echoes, unwelcome, through our conversation.
And so Mariam keeps visiting the job center, but there is nothing. She nurtures aspirations of recommencing her painting, and tapping into an online market. She is saving up for a trip to Kharkiv, to get equipment: paint, canvas. God willing, she should be able to sell at the local market, or through her friends.
It is hard here – with no amenities and no job – but any return to Donetsk is unthinkable at the moment. Her oldest daughter has been accepted into a specialised school in Kharkiv. She will live in student housing there. Mariam is relieved. Maybe this will give her daughter the opportunity to settle in Kharkiv, and maybe move deeper into Ukraine. 
Mariam loves – loved – Donetsk city. She is very sorry, and hurt by what is going on there. It is hard, woeful, that they are bombing Donetsk. It was a beautiful town, economically developed, and suddenly … She doesn't understand why all this had to happen. Both sides are bombing, and it is so painful. Every day you think about it, and you want to cry. There is nothing to be done. You just wait and wait for things to get better.
Her youngest daughter is tugging her sleeve. There is one bus back to their village from this town. And they do not want to miss it.
***
Northern Donetsk region. The government-controlled territory. An odd juxtaposition of hopelessness and endeavor. More tension.
Tension of a new sort. From April to July 2014, parts of this region were under separatist control. Slovyansk was proclaimed the first capital of the "Donetsk People's Republic." In what became known as the "siege of Slovyansk," government forces took the city. People felt relief. Or disappointment. Routine civilian life recommenced, with all the specificities of a recaptured town not far from the frontline zone. A trace of war, a trace of peace.
This experience has been formative in guiding people's understanding of the war. Slovyansk residents fled the fighting to nearby Svyatohirsk, the sleepy resort town of the Holy Lavra Mountains Monastery. They were settled into working and abandoned summer camps in the forest by the local authorities (themselves working round the clock to keep up with the influx). Many returned after the fighting subsided. Others had nowhere left to return to. In summer 2015, Slovyansk town centre is largely untarnished. Elsewhere, buildings are pockmarked by bullets; scratched by shrapnel; gutted by artillery; burnt out by fire. The reclaimed city has been streaked with yellow and blue paint – the colours of the Ukrainian flag.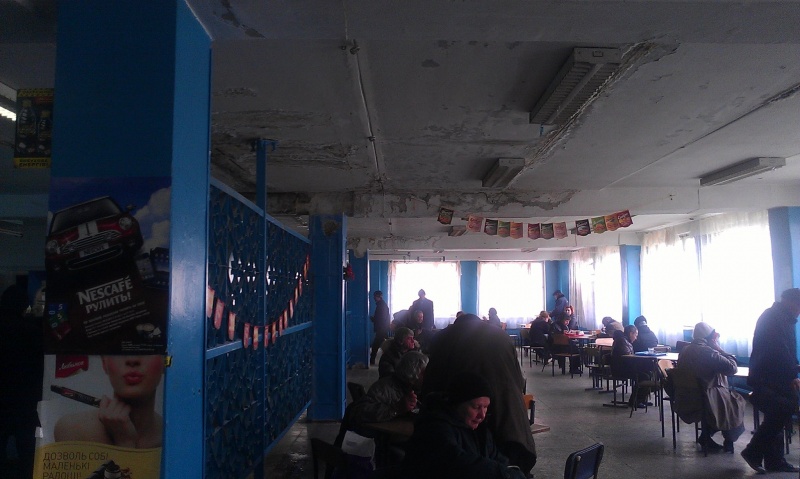 "Sotsialna stolova" (Social canteen) organized by local volunteers and Chezch NGO (Donetsk region). Photo given by the author
Areas of more intense fighting have since shifted, precipitating new waves of movement between towns. Slovyansk now hosts people displaced from Horlivka, Avdiivka, Debaltseve, and so on.
Closer to the frontline, a sense of urgency fuels volunteer operations. Until spring [2015], volunteer movement Slovianskoe Serdtse (Slavic Heart) and others were evacuating people from the conflict zone. Evacuating them even under fire. Through the checkpoints. Bombs falling. Under fire. When it was announced that the vehicle had reached the Ukrainian territory, people looked as though they might faint from happiness. Once an old lady lost consciousness fell to the floor. Some sort of happiness would arise in your head, after the anxiety of the experience. You were so worried … and then … People had taken as much as they could bear. 
Some people arrived in Svyatohirsk in the middle of the night in their dressing gowns and slippers. One woman was naked under a beautiful fur coat. She had grabbed it thinking that it was warm, and could perhaps be sold at a later date.
In general, evacuations have stopped by summer 2015, but people are still risking their lives to deliver aid in the "grey zone" along the so-called "line of demarcation." Some of them deliver on both sides. Another group is working to restore schools in frontline villages in the government-controlled area (GCA). Sometimes, I am told, when there is heavy artillery, you have to stay underground until it subsides. Sometimes you end up spending a few days there. Actually, each time you embark on a journey, you cannot be sure that you will return – they say – but this is important work. I am invited to accompany one trip to Dzerzhinsk, a village on the GCA side near the frontline, and am dismayed not to be able to go. The next day I awake to the news that the village was severely shelled overnight.
In August, the founder of Kramatorsk SOS, a new NGO helping IDPs, convenes a summit of local and international organisations working in the Northern Donetsk region. His aim is to develop a collaborative and better-coordinated response to the humanitarian crisis. Participants gather to devise strategies to meet shelter, protection, coordination and livelihood needs. The summit is ambitious, the participants – dedicated. The aims and aspirations seem to parallel the workings of the UN humanitarian response cluster system.  
There are also volunteer groups supporting Ukrainian fighters. In one location, people are weaving camouflage nets. In moments of frustration, they throw darts at the faces of Russian President Putin and Aleksandr Zakharchenko, the "Prime Minister" of the self-proclaimed "DNR." They need to replace the pictures, actually – you can barely make out the features now.
***
The situation in Sviatohirsk is particular. Administrative records show that the majority of IDPs are renting accommodation. Far more visible, however, are the hundreds still housed in the monastery and summer camps.
At one camp, a group is making a concerted effort to create a "commune." In war, they say, people experience stress, social institutions are broken, and support is virtually non-existent. They see the commune as the only mechanism for forming new conventions and community rules. It is a form of peacemaking, in a way – before something is done, people have to agree; people have to hear each other. They are trying to instill a proactive attitude; a sense of responsibility for present circumstance and future plans. This effort is met with mixed measures of enthusiasm and suspicion. A piece of paper, documenting the group's legal registration is presented during a residents' meeting, amidst murmurs of discontent, intrigue, suspicion and outrage. Those on kitchen duty leave early to prepare dinner. The commune has built a borehole well, connected to the internet and drained the basements. They are making plans for a children's room. They can offer some protection too, they say, from the sixth wave of mobilisation by the Ukrainian army that August.
Meanwhile, the atmosphere vacillates towards depression and inertia. Now that the fear of being killed or mutilated my munitions has gone, people find themselves preoccupied by new difficulties. The sense of empathy and communal understanding is becoming less strong. There are more disagreements. People bicker. Being here, you do not feel constantly that your life is in danger, but life is hard in a new way. Here there are very few opportunities for work. Even for the locals. There is restlessness. They have all lost the jobs they used to have at home, they say, through no fault of their own. Those who are able to find work elsewhere, I am told, have moved on already. Kharkiv, Dnipropetrovsk, Zaporizhzhe, Kyiv – all across Ukraine. All individually, each as they found work.
At a picnic table in the forest, I hear the undercurrent to life in displacement:
Those who remain live with the constant fear that someone will make them leave the camp. Sooner or later they will have to go – but now they have nowhere to return to. It does happen, they say. They are grateful to be living there for now, but there is no certainty in tomorrow. You survive today – and thank God. Tomorrow you will think about tomorrow. What will be will be. Most people have been here for a year now.
With no work, and scant social benefits, it is hard to scrape by. Now those of working age are no longer eligible for the IDP benefit – except for the disabled, families with many children, or little ones under five. When parents are asked to contribute money to school life, they don't know where to turn.
People have self-organised to bring some sort of orderly life to the camp. They have taken on duties – Vika is a volunteer supervisor, Vanya – the electrician, Katya and Ira run the kitchen, Alisa sorts the laundry – there is a list of each family's responsibilities. Vanya was one of those who worked hard to prepare the camp for winter. Now he is working on the borehole project. They pay for utilities and live rent-free.
Food comes from the Holy Lavra Mountains Monastery. People tell of how Saint Mary appeared to the monks of the monastery, saying that whoever came there in need, should be provided for. The monks are true to this. In return, the IDPs help with odd jobs.
But people want to work. They do not want to be reliant on humanitarian aid. At the same time, I hear how they can't wait for help from anyone. They are trying to do something themselves, with their own hands, their own strength. They have been painting this week, supported by an international aid organisation.
They do not live, but exist, they repeat. Things are not too bad, but this is existence, and not life. Survival and life. People are cut off from their passions, their pasts, what made them who they are. Everyone has somehow been equalised, brought to one level. Their situation is completely unclear. The state has no concern for them. They have no rights. Nothing. Nobody needs them – neither here, nor there. And they themselves do not understand why the war is needed. How it came about. No one can explain. Whose war it is anyway. It is certainly not theirs. They have done nothing and they are being used. Peaceful civilians are dying. When brother is fighting brother, all other commentary is in vain. It feels as though they have lost their minds. They do not want the war. No more do people in western Ukraine. Let it all end, so they can go home. Everyone just wants to go home. They are not guilty of anything. They are against war in all forms. They need peace. They need their homes. It is hard to feel at home in an unknown town.
Lots of Vanya's friends have gone to Russia. They call him to them repeatedly. But he would rather stay closer to home. With the possibility of being there in two hours if ever he needs to. The war has thrown everyone apart.
One woman gets up repeatedly to cry a little. She is surprised to find herself doing this. But she just feels so sorry for the children. Not her own children – they are grown up – but for the children of the war.
But there will be jam with dinner. It is good to take pleasure in small things. A baby gurgles contentedly as we talk.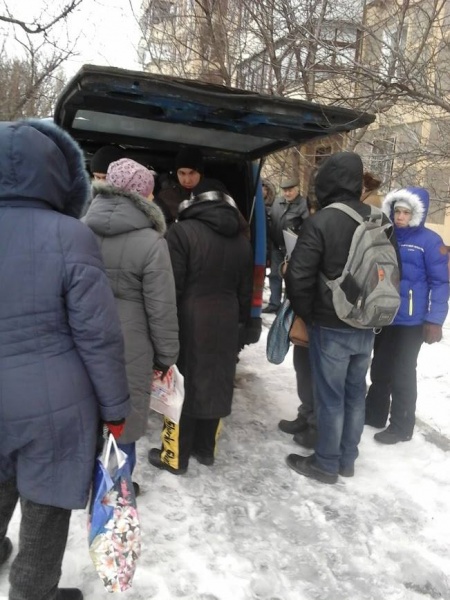 Disposal of volunteer aid. Kharkiv
***
That morning Pavel received his letter of conscription. Black ink on white paper redirecting the course of life.  He does not know what to do. Go to Russia? Go home? Fight? How can he bomb his friends, his motherland? He draws on a cigarette.
The decision is far from easy. Since his wife left for Moscow, Pavel is alone with his young son. His mother lives in central Ukraine, but he left the family home during early adolescence. He cannot return.
Pavel is one of the few with a job here. His shift at the local nightclub, the "klup", he chuckles, derogatively, will begin soon, and he should set out.
Do I need a lift anywhere? I'll be ok, thanks.
***
Alina was among those brought in waves on buses driven by volunteers. She couldn't have left, otherwise. Her elderly mother-in-law – our babushka – is bedridden, poor-sighted and epileptic. She was left paralysed after a stroke.
When a neighbor told Alina that they were collecting names for an evacuation the next day, her household signed up immediately. Then they spent a sleepless night, undecided as to whether they would actually leave in the morning. They awake, and within half an hour their things are packed and they are on the bus. A neighbour helps carry out our babushka. Her brother stays. He will watch over their flat for them.
This was at the end of January 2015. They had been staying in the basement for a long time, then. Alina's building was being shelled from both sides. They would have to leave our babushka in the house. The basement isn't meant for people … there's plumbing, everything drips, the ceiling is low. Alina's husband would say – let's go. They'd drop everything and run downstairs. Alina would worry – how could they leave our babushka behind? Just like that. That's just the way it is. All the same you want to live. They just had to hope our babushka would not be hit.
By then, Alina felt her town was dying. People had to collect water from a pump well. In the winter, the containers would freeze, and crack, letting water trickle away on the walk home. There was no water for washing. Remnants of war and scattered debris were a constant reminder of risk. Alina and her husband had lost their jobs. Their factory – a huge local employer – was hit during the bombardment. At another factory there was a bomb shelter. People were basically living there. Neighbours became like blood relatives. They worked together to repair and rebuild between bombardments.
Just like that, Alina found herself in a situation, and could see no way out. No way out of all this. She was simply hysterical. There was no way out, and it was so frightening. She does not know by what miracle they stayed alive. And then they had the chance to leave. They arrived in a state of shock, but were received "normally", and given food.
Now Alina – a cook by profession – is in charge of feeding the population of the summer camp. She has been offered paid work, but has turned it down: who else will feed the people? And besides, our babushka needs constant care. The resources are limited, but Alina takes joy in making the food taste as good as possible for people. What's on the menu today? Potato.
There is a library in the camp and her husband and mother-in-law devour books. The latter with a mixture of guilt and pleasure – the doctor has warned that she will damage her eyes irreparably.
The trio will have to leave at the camp at the end of the summer. There is some complexity around funding, and the camp owners are, understandably, experiencing financial difficulty. Where will they go? Alina does not know. She is trying to coax her husband into thinking about it. But he cannot. For her part, Alina is physically here, but her soul is there. And her heart. She is still at home.
Her son has moved to Kyiv. She has a grandson there. She streams home videos from her mobile phone, and we watch baby Sasha smile, laugh, and learn to crawl. She has never seen him. One day, she dreams, she will.
***
In another town I meet a Baptist priest. He and his wife began working in this town before the outbreak of conflict, and do not consider themselves IDPs. They are communicative people they assure me, and ready to adapt to new circumstances. They could live anywhere, they say, whereas some people do not find it so easy to move and to adapt. Moreover, people leave under different circumstances. They were involved in the evacuation of one woman, actually. She had thrown herself over her child to protect him from an explosion. She was badly injured. They made sure that she got to Kharkiv.
***
Throughout the past weeks I have been trying to assess whether to travel to the NGCA – balancing the importance of speaking to people there with potential risk.
I float the idea tentatively with several IDPs, talking in the abstract, rather than from a personal perspective. Some would be insulted by my intention, and besides, I don't want to broadcast my plans. Some are enthusiastic, but the majority message is clear. Do. Not. Go.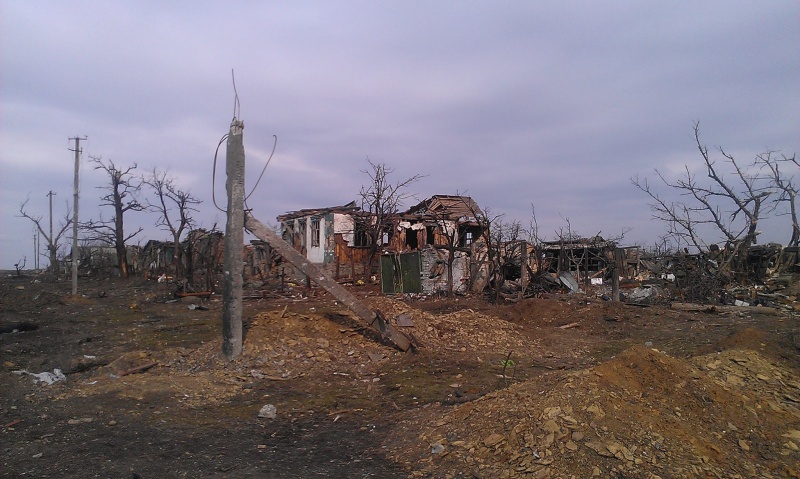 Nikishino ruins (Donetsk region). Photo: Darya Kuznetsova 
In Svyatohirsk I stay with Svetlana, her mother, and her two children. Those that know her describe her as having "a heart of gold" – she has little, and gives much. She shakes her head and tuts. Good Lord, my dear, "ne nado, ne nado," she says. This translates variously as "this is unnecessary" and "don't do that." I understand her implication to combine both: she sees my venture as futile, unsafe, and is warning – perhaps ordering, in the way a mother would a child – me away.
And yet, I travel to the territory no longer under the control of the Ukrainian government (NGCA).
Military presence increases significantly with proximity to the frontline, and the small towns seem to crawl with soldiers. BTRs rumble along, silhouetted against the sunset. The route we take into the NGCA follows a single road regulated by a six or seven Ukrainian- and "DNR"-held checkpoints. The surface of the road makes vibrations that remind me eerily of the sound of warplanes.
As we wait on the Ukrainian side, one woman with a basket stands at the side of the road with her back to one checkpoint. I can't understand, quite, why she is standing there. Is she not being let through? Off the asphalt, she is unpleasantly close to a sign nailed onto a tree: "MINES". Along the way, these letters are repeated on boards hammered into the ground and daubed onto concrete roadblocks.
We are tense – Andrei, who is driving seems to think unnecessarily so – but the journey passes without significant event.
*
We arrive in Donetsk towards evening and I meet my friend Katya for dinner. We run a quick errand – acting as postal service for an acquaintance who has been ordering smartphone accessories online – among them, a lavender scented teddy bear phone cover.
It is a balmy evening, and normal life moves to the jarring rhythm of an extraordinary new everyday reality. The sunset is offset by a dull thudding in the background. I ask my friend how far away she thinks the shelling is. She cocks her head. About 15km, she says. Probably by the airport. It's okay.
In Kyivskii district, by the airport, the car jerks and drops as it trundles along cratered backstreets. Some stray dogs wander the streets, but – perhaps because it is raining – there are few people. Shrapnel grazes and shell craters tell the story of war on high-rise residential buildings. The ghosts of rooms are etched in scorch marks on the brick.
Across the city, the armed presence on the streets is significant; fresh produce is of poor quality, expensive and rare; the banks aren't running; flash checkpoints emerge unexpectedly; at night shells boom, and small arms fire is audible in the street; the curfew informs residents to be home before 11pm.
And yet, not all of the cafes and bars are closed. A shell fell on the central boulevard last week, but the pedestrianised area is frequented by several people, strolling, sipping coffee and cocktails; the theatre advertises its summer show; there are hubs of volunteer activity; the botanical garden is in bloom; pensions are being paid; the buses are running, and I am assured – with some pride – that they never stopped.
Last week an international humanitarian organisation was expelled, but others are still active. We hear reports of deliveries being stopped at checkpoints on the other side. Later, I will read with deep concern that these organisations are being refused accreditation by the "DNR" authorities, and requested to halt activities. These activities include providing free, life-saving medical care.
The situation is, perhaps, a mosaic. 
There are so many factors that may combine so that an individual remains in an area of active conflict. For some, displacement is obstructed: for those who lack necessary documentation, are caring for an elderly or sick relative, are responsible for maintaining family property, or perceive themselves financially incapable of making the leap. For others, displacement is undesirable or irrelevant: for those who support the "DNR", have comfortable employment, seek to avoid conscription into the Ukrainian army, do not wish to distance themselves from the graves of their loved ones, or feel attachment to their homes, their land. For yet others, displacement is a memory: they have returned.
To some degree, I am told, every person here has come to terms with the fact that they could die at any moment.
*
Liudmilla's daughter died two years ago. A drugs overdose. Now she watches the war develop around her, as she endures life. Nothing frightens her anymore in this world. She is not afraid of anything. She needs to put a stop on this life. Why does she speak like that? Because – is it really possible to live through all this, and then to say otherwise?
Now she lives – endures life – without her family. She is not going anywhere. Maybe young people need to go somewhere, to build their life and their family. These political victories – no one wants them. You know – one man at work – a colleague said – let me lose my arms and legs, but let me stay here, in my motherland. People can get used to anything. Now, at least, it's a bit quieter. Rockets fly above you, of course, but never mind. You get used to it. People aren't afraid. They simply hope that, with time, something will change. With time, it will be enough, and they can stop. Stop all this nonsense. When people on high can't agree, we all suffer. We are small people. Little pawns, as they say.
Liudmilla left Donetsk, in her time, to find work, and to give her daughter a good education. She needed to earn more to provide for her family. So she went. She worked hard. She got an education, developed a career, gave everything she could to her daughter, and then – it was all ruined in a moment. Just like that. Now she does not care for material things. She needs nothing. Before, she would carry on striving for the sake of others – her husband and daughter – and now … and now? They don't need anything anymore, of course. They are not here. Liudmilla tried everything, and now she's of an age. And people who are of an age, they have nothing to do in this life.
You see, at the same time as this war is going on, so too is another sort of war. Either it is alcohol, or drug addiction. And it can touch any one of us. You work to build a good family, to set your children on a good path. You give them a little space, and … Someone once phrased it in a way Liudmilla likes: we come through survival stronger than before; we must continue to strive. But now she has no one to strive for.
What is Donetsk, anyway? It is her city, her motherland, her life. It is the grave of her daughter, the grave of her father who came to work here as a miner, it is her grandmother and grandfather, her roots. She will go to the cemetery today, actually. To the grave. To speak to her child. Her good child.
*
Ilya's mother died of a heart attack two days after the first plane bombed Donetsk. She was anxious all the time. The boys got left alone. As the oldest, Ilya sent his youngest brother to live with his stepfather – the boy's father – in Kyiv. The boy was not scared, actually, but they were scared for him. Children shouldn't live in a place that is under fire. Last autumn there was heavy shelling.
They don't really speak now. His stepfather doesn't want them to be in touch. There is a small divergence in views over the Donbas. And Ilya doesn't really want to speak to him either, actually. The man did nothing when his mother died.  
His middle brother went to Russia – he is independent now – and has managed to find work as a chef. By all accounts he earns well, and has acquired lots of new possessions – "although not a wife" – and is renting a flat with two friends. Ilya supposes he wanted to change his life up a bit. It happens sometimes. He can earn good money, and life is calm, quiet. They chat online.
At one time, Ilya thought of moving to Russia too – he doesn't like the direction, or ideology of Ukraine – but all the same sooner, or later, he would want to come home. Regardless of the bombs – this is his home. Once he went to visit a friend in Mariupol, and felt somehow uncomfortable. He breathed a sigh of relief when they returned. It's the mentality – you build your house, and you live in it. You have your roots, and your property. He loves his land, his region. He loves Donetsk … Donetsk people … all together. It is hard to separate.
Last year Ilya got married. Artillery was booming around them. And they got married. It was a strange moment. Many of his friends did too. They got married, and now they're planning for children. It's strange. They got married in Donetsk – not in Ukraine – but the registry office was still working. Now you can't get a marriage certificate – well you can, but it's not recognised in Ukraine, since all of the Ukrainian authorities withdrew.
Ilya has a Master's degree, but is currently working as a barman. Lots of businesses have closed, and there aren't specialist jobs available. He earns well, actually. Better than before the war. He could theoretically work in the "state apparatus," he reasons, but not for the moment. Many of his friends have joined the opolchenye (the separatists). Ilya, too, thought about it, but his wife held him back, in her way.
Others of his friends went to Kyiv. They are still in touch. They just don't talk about politics. Their views don't align any more. He would probably think the same way they do, if had left, he muses. Sometimes he does watch Ukrainian media online. It makes him laugh. But it hurts, actually, that his friends and relatives watch and believe it. Yesterday everyone was friends, more or less. People leave for their own reasons.
A lot has changed since last year – good change and bad change. It is worse that his mother is no longer here, and that there is war. It is better that he is with his wife and he loves her. Everything will be ok for them, he hopes. The shelling is mainly on the outskirts, not where they live. In those areas, people don't care about sending their children to university, or buying a car … they just want to survive each new day. Things are hard for pensioners. Hard for the unemployed. And single mums.
There were moments when they did not know what to expect. Then it all stabilised. He saw that there was no particular threat and that he could live calmly further. He would have left, if he lived in a frontline zone, because life is dearer. And the lives of those close to you, who would also be unsafe, are all the more dear. Last week there was an explosion 300m from his house. But they weren't home, thank God, so it was all fine.
Ilya's phone rings – he answers it instantly, as everyone here now seems to do – Ilya has a friend to visit, and he doesn't want to be too late to meet him. As we walk to the door, he says:  "More people need to come here, to see that people are not terrorists and there are not people being killed all over the place. The streets are not lined with masked men. Our fighters have nothing to hide."
*
There are IDPs in the "DNR", too, Irisa tells me. She is one. She moved last year. She had to. She had been supporting the separatists in Northern Donetsk. Cooking food for the lads, providing shelter. When the opolchenye retreated to Donetsk, Irisa's family understood – the situation would become bad for them. They were forced to leave their own town.
She and her husband gathered their children and foster children in turn to explain. They told them: "The Ukrainian Nazis will come here, and it is essential to leave for Russia. Are you ready to that with us?" The children argued, saying, mummy, daddy, don't leave us, please take us with you. "And what if we should have to go hungry?" – "Then we'll go hungry with you!"
In Russia, they sowed cabbages and worked on construction sites. Locals would bring them potatoes and all the essentials. They lived well, Irisa says, until the landlord decided to sell the house. At that point, she became very concerned about the education of her foster children. Their residence permits ran out too. They moved back to the "DNR".
As Irisa and I speak, Tanya looks on. Her sons joined the opolchenye. Not all of them are still with her. Her eyes are glazed, but she is resolute. The dog licks her feet. But the future will be bright, Irisa says.
*
Life before the war was completely ordinary for Timur and his family. He had the most ordinary life, not without difficulties, but really, the most ordinary. Just like for the majority of people in Donetsk. Just like any middle class family in any country. They had everything they needed – not luxury items, of course – but food, and clothes. He does not look back and romanticise peacetime, but he was happy with that ordinary life.
When his mother became sick, he was able to support her, and help her to keep her quality of life. For a long time, he couldn't leave her. His wife Marisa would take their three little daughters on holiday, and he would stay with his mother. She needed someone to look after her. Someone she knew. She was afraid of being alone for too long.
Now things are not at all normal. Nothing is. Donetsk is under fire. Sometimes there is mortar shelling. At any time, any region of Donetsk might be hit. Where we are sitting at this moment, there has not been any shelling, as far as Timur knows. But it's not because the region is so far off that nothing could reach it. This is just the way that things have turned out. He speaks calmly, and with measure about all things.
Timur does not live in such a fortunate region. Last week a shell flew over his apartment – about 10m away – and hit another building. He didn't see it – he was asleep – but someone else filmed it. Fortunately no one was killed.
In the early days of war, Timur's region was hit by shelling. Ten people were killed. He sent Marisa and the children to Ukraine. He says "Ukraine" for simplicity – somehow, he reflects, people have become accustomed to distinguishing between Ukraine and the "DNR" – but this is Ukraine too. Timur stayed to look after his mother. They moved to a quieter region, but within a month there were mortars and shells flying past the windows there. They never hit the house, but they did break a lot of windows. One family was killed when a shell hit a car. It was terrible. Timur went back home.
In winter, his mother passed away, and Timur was left completely alone. Because of this, and because the fighting, too, had been less intense since the first Minsk ceasefire, his family came back. The emotional cost of splitting a family hurt. And it was difficult for his family to get by on the pension of Marisa's mother, who had traveled with them. They were met with empathy and understanding in Ukraine, and remember the experience of living away as positive. But they didn't want to stay for long. They took themselves off the IDP register when they left, of course – they weren't going to keep taking state benefits if they were living at home. Nothing like that.
Timur explains how other problems stem from the transport blockade, and isolation from Ukraine, which creates a deficit of goods, medicines and essentials. Prices have gone up across Ukraine, but disproportionately so in Donetsk. It's not that you can't manage – Timur's family has what it needs – but it's complex.
When Timur had a surgery – nothing dramatic, just a little thing – he had difficulty tracking down the very ordinary medicines he had been prescribed – nothing dramatic, but some difficulty. He knows that there are people with serious worries. People with diabetes, poorer people, people who need more expensive medicines, or medicines that just aren't there. It's a threatening environment. And there is a moral aspect to this issue too. 
But of course, Timur has got used to what's going on. He values his home, his work, and knowing good doctors whom he trusts. People are good at adapting, he thinks. At first we can't even imagine such situations, and then we normalise them. There are people among his close friends who suffer emotionally. There are difficult moments. Like when the shelling thunders in your ears. Or your office burns before your eyes. Moments such as these. But people can accept that any one of them may come under fire at any time.
The picture of war is not lovely. There are a lot of weapons in the city. But Timur respects the curfew, and things are okay. The children in his area play outside in the evening. Everything is normal. You can hear children's voices.
But the sound of children's voices over shellfire is chilling. It frightens Timur that he understands the danger, to which the children have become inured. His own daughters have adapted too. If they do become frightened, they run into the corridor. Even his two-year-old understands.
Timur and Marisa's children have ended up in the most dolourous part of their whole lives. It disgusts him. They just want their children to have the childhood they had. To understand that they are not guilty in this.  
*
When we leave the NGCA, the line of cars waiting bumper to bumper at the first checkpoint is heartbreaking. On the other side of the road parties carrying children and the disabled are managed into line with priority access. Cars with homemade "baby on board-type signs," but no visible infant, cause consternation. Movement is slow. There is some wrangling as cars vie for position. But mostly people are resigned to wait. We have heard that some sit it out all night on both sides of the "border." Men smoke leaning on their car roofs.
On this day there are two open routes between the "DNR" and the GCA. The sun beats down. The air is thick with asphalt. There is no access to toilets, to water, to shade. There is talk that last week a woman was blown up relieving herself at the side of the road. People are fed up. Agitated.
When we get to the checkpoint town on the other side of the frontline, we spend an hour looking for medicine to send back to my colleague's grandmother, who can't access it at home. There is none here either. Instead we send Gillette razor blades for her brother.
***
I take the train back to Kyiv. I am reluctant to leave Eastern Ukraine. There is so much left to uncover. The passengers' faces show the resignation, bitterness and sad exhaustion that I have come to associate with train journeys heading west. I guess that a significant proportion of the passengers are leaving the NGCA for a break. About half of the carriage is taken up by soldiers. It is getting dark and people are settling down for the night. A woman on the bottom bunk perpendicular to mine receives a phone call.
We hear her say:
My little birdie, my little birdie, everything will be ok. Hold on. Hold on. My little birdie. My little birdie.
She hangs up.
Donetsk is ablaze from all sides.
There is a scuffle for phones. Panicked conversations. I call Katya. Last week she was showing me pictures of her picnicking in the botanical gardens. Tonight, the shelling is intense. She has gone to sit in the corridor.
But perhaps little birdie was over-reacting.
The woman perpendicular puts her blanket over her head and shakes gently.
***
I prepare to leave Ukraine, and order a cappuccino from the back of a van in Podol on my way to the airport. The vendor has piercingly blue eyes. This is his third day in Kyiv, he tells me after a deep breath. He used to work in Crimea. But – another deep breath – he is clearly uncertain as to the level of discretion advisable in articulating this fact – he is actually from Donetsk. From Volnovakha. He moved back to his parents' house there after the annexation. But the town is small. And opportunities are scarce. There is a sense of stagnation amongst the youth, who went to seek their fortune in Donetsk, and many of who now find themselves out of work and pushed back to the family home.
He is scared, he tells me, but determined to make things work in Kyiv. He declines payment for the cappuccino. I pay anyway, and wish him – with absolute sincerity – every success.
***
Looking for the right words to close this piece, my mind wanders back to the picnic table in Svyatohirsk:
"It is hard for the human brain to understand that civilians are being fired upon. We hung on until the very end. We didn't believe that it would go on for long. We didn't believe that something so serious could happen in our country. All the same we hope for something. We live one day at a time. There is no calm for the soul."
As people pick a path through fields of immediate and future concerns, they fluctuate between looking forward with hope, and yearning to look back to belong. Human connections are mobile, yet their durability may be challenged by the conflict dynamic, which at once draws people together, and flings them apart.