Introduction
Those who follow Ukrainian issues today know that many foreigners who consider themselves radical leftists oppose that country's attempt to break away from its former imperial master. Surprisingly, they support the attempt of a capitalist Russian government that legitimates itself in terms of religion, has an imperialist foreign agenda based on settler-colonist minorities beyond its borders, and subscribes to "spheres of influence" thinking to re-impose its control over Ukraine.  It is a re-imposition that, as of 2014, involved the use of military force in Ukraine. Such a position is at odds with such fundamental statements of left-wing positions as the Zimmerwald Manifesto of 1915 and Trotsky's 1939 comments on Ukraine's experience of Stalinism:
The bureaucracy strangled and plundered the people within Great Russia, too. But in Ukraine matters were further complicated by the massacre of national hopes. Nowhere did restrictions, purges, repressions and in general all forms of bureaucratic hooliganism assume such murderous sweep as they did in Ukraine in the struggle against the powerful, deeply-rooted longings of the Ukrainian masses for greater freedom and independence.
Their stance places such leftists alongside those they normally regard as their enemies: big bankers, corporate directors, and lawyers who profit from their contacts with Vladimir Putin and his associates, as well as pro-Kremlin fascist and neo-Nazi parties in their respective countries. Normally, North American and EU pro-Kremlin radical leftists have little influence on the foreign policies of their countries. Academic analysts who do not research radicalism normally ignore them. However, they deserve attention today because, together with the other above-mentioned pro-Kremlin groupings and parties, they influence public opinion, and sometimes a government foreign policy decision, in matters related to Russia and Ukraine. Internet commentary on Maidan-related articles reveals that many such leftists share the Russian government's anti-Ukrainian position. EU voters recently gave approximately the same percentage of votes to radical left as to radical right parties (8-10%). Certainly, specific political circumstances account for this phenomenon.  However, there is also a historical factor that explains why many in today's foreign Left, who without hesitation oppose Anglo-American neo-colonialism and neo-liberal capitalism within their own countries, suspend their avowed anti-imperialist, anti-capitalist, anti-corporate democratic ideals when looking at what is Russian neo-colonialism in eastern Europe and Ukraine.
While foreign pro-Russian leftists differ among themselves in details, they share, along with Putin and the Kremlin ruling elite, two basic ideas. First, that Russia has a "sphere of influence" like the US, but that unlike those living within the US "sphere," those living within the Russian "sphere" should make no effort to rid themselves of Russian domination and/or hegemony. And, second, that "nationalism" in Ukraine never had and does not have today the "progressive" role such leftists assign, or assigned to, countries subject to American or western European imperialism or to neo-imperialist and neo-colonialist rule. In their view, Russian migrants to Ukraine were not settler-colonists, as claimed by Ukrainian Marxists, and Russian rule in, or control over, Ukraine neither was nor is imperialist or colonialist. Implicit in these assumptions is the Russian Bolshevik idea that "the proletariat" could not be chauvinist or nationalist, and that "socialism" could not be imperialist.
Although the USSR, the CPSU, and the Comintern no longer exist and Putin's ruling circle no longer shares the latter two opinions, networks of comrades still subscribe to such notions. Pro-Kremlin leftists, in short, are blind to Russian imperialism past and present. A major step in channeling foreign radical leftists to think about Russia and its old empire according to such Russo-centric criteria and blinding them to the existence of a Ukrainian anti-colonial Marxist tradition occurred in 1920 when Russian Bolshevik leaders excluded the Ukrainian Communist Party, from the Second Comintern Congress.
Liberation or Imperialism?
The Ukrainian Communist Party (UCP), formed in January 1920, was a fundamentally different organization from the Communist Party of Ukraine (CPU), which formed as a branch of the Russian Communist party (RCP) in Ukraine in 1918. The UCP was not at the July 1920 Second Comintern Congress (CI) and no one there knew about its "Memorandum," that had accompanied its request for membership and detailed its positions. Its leaders, Andriy Richytsky and Vasyl Mazurenko, had only guest status and could not address the delegates or present resolutions. No one has yet examined why Bolshevik leaders did not allow the party to attend. The only known explanation to date is in a letter by Richytsky and Mazurenko to their associates in Kharkiv from Moscow, where they had gone to submit the Ukrainian case to the Second Congress: "It is quite obvious that Moscow decides policies in Ukraine and that everything that happens there is not the product of the local Communist Party of Ukraine (CPU) types." In Moscow, they continued, the head of Ukraine's Soviet government, Khristian Rakovskii, had informed Russian leaders that the UCP had "no real influence" – which was why their application to attend sessions as delegates had been rejected and they received only guest status.
Rakovskii's claim was spurious since in 1920 few CI member parties other than the RCP had "real influence" in their respective countries because most of them were fringe groups. Over 200 delegates from 37 countries attended. While the Russian hosts excluded Ukrainian communists, they did send invitations to foreign non-Bolshevik socialists and leftist radicals who disagreed with them, hoping to thereby generate foreign support that, at the time, was conspicuously absent. Among the representatives were Dutch, Irish and Koreans, who could not claim to represent more than a few hundred like-minded countrymen – let alone an influential party. The Indonesian party at the time had about as many members as the UCP – 3000.  A Czech delegate's description of himself was applicable to almost all the invited foreigners: "I did not know a word of Russian, had read hardly any of the Bolshevik literature, but the October Revolution had greatly impressed me."
The more likely reason for the rejection lay in the Ukrainian communist critique of Russian Bolshevism as renewed Russian imperialism. The Comintern Congress was held in the summer of 1920 when the Red Army was marching towards Warsaw and American radical journalist Lincoln Steffens in Paris was telling whoever would listen that he had seen the future and it worked. Bolshevik leaders could not let Ukrainian communists tell foreign delegates that it did not work and that, in Ukraine, their CPU agents were reproducing the pathologies and predations of tsarist Russian imperialism. Russian leaders preferred delegates not realize that their words in Moscow bore little if any relationship to their actions in Ukraine. They preferred foreign delegates to not realize that, contrary to their official claims, few Ukrainians in 1920 associated communism in its Russian Bolshevik variant with national or even social liberation.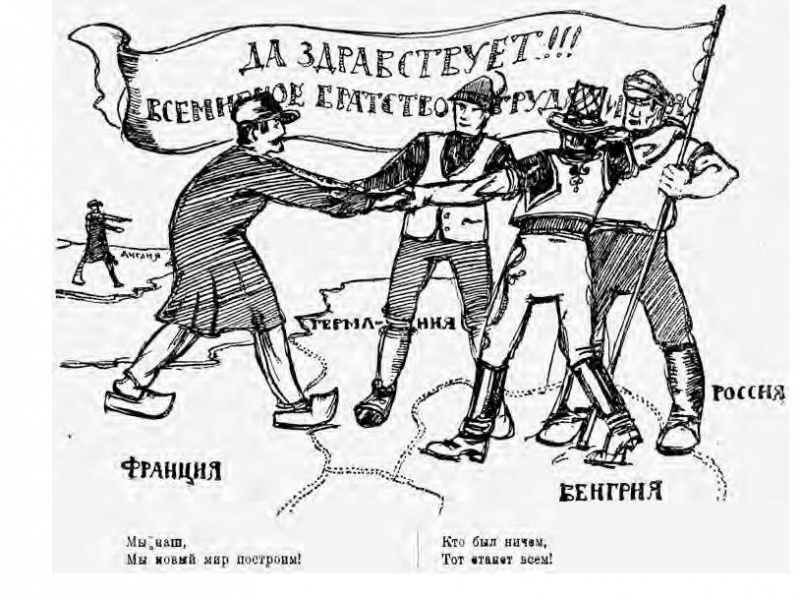 Bolsheviks' Centralization and Control
Although the UCP had accepted Bolshevik rule, funding and, thus, dependency, Bolshevik leaders feared it even though it had no more than 3000 members. In early 1920 the Bolsheviks controlled Ukrainian cities tenuously and had to keep a one million strong army in the country. The local branch of the RCP in Ukraine, the CPU, had only eleven thousand members, of whom no more than 10 percent that year identified as Ukrainians. The majority were urban Russified Jews or Russians, first- or second-generation settler-colonists, most of whom were ignorant of and indifferent, if not openly hostile to, Ukrainian national issues. The fifteen thousand strong Ukrainian left Socialist-Revolutionaries (borotbists), meanwhile, although pro-Bolshevik, were critical of Bolshevik policies, as were a group of critical "federalists" in the CPU, who were condemning the Bolsheviks in almost the same terms as the Ukrainian Communists.
The Ukrainian condemnation of the RCP seemed to peak on the eve of the Congress when Russian-born, long-time CPU member Iurii Lapchynskii left the party to join the UCP. In a public letter in the UCP newspaper he condemned the Bolsheviks as "an organization of Russian and Russified workers" that, from the start, had disassociated itself from the Ukrainian revolution and one in which the majority, even after 1917, "regarded the attempt to create a [Soviet] Ukrainian territorial national state as a farce to fool Ukrainian chauvinists and foreigners and, at best, as a tactical maneuver." It was only a minority like himself who saw "the need to fundamentally restructure the old Russian empire and, moved by a sense of obligation to the country they had to organize, and to the revolutionary proletariat, realized that Ukraine is a distinct and separate territorial national and economic organization."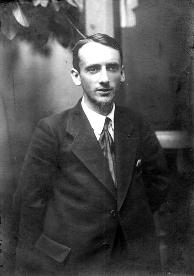 He condemned Bolshevik Russian centralization and the practice of sending Russian rejects (otbrosy) to posts in Ukraine, viewing these as the reasons why counter-revolution had triumphed there in 1919. He added that Lenin's concessions of December 1919 had changed nothing and that reform from within the CPU was impossible. Having seen how some newly arrived Russians had been able to suppress within themselves "remnants of Muscovite centralism and chauvinism," he concluded optimistically that the UCP was the only alternative for Ukraine. The Bolsheviks used his letter as an excuse to shut down the UCP newspaper. The Russian Socialist Revolutionary Party members reported that spring that the UCP was attracting workers who backed Soviet power but disliked Lenin's communists. Local CPU officials complained that UCP attempts to control local soviets [councils], establish their own army, and prevent "people from Russia" from controlling them amounted to "anti-communist agitation" more dangerous than that of the recently defeated Ukrainian National Republic.Bolshevik leaders decided to police the UCP soon after recognizing it. They harassed party members, discredited it, and denied it publicity by not publicly debating it. The CPU sponsored a pro-Bolshevik "left" faction within the UCP, intimidated members with spurious criminal charges, and denied funding and premises. The secret police (CHEKA) planted agents inside the party to foment ideological disagreements and thereby polarize membership. It established a special subsection to follow UCP activity which then compiled a detailed "Daily Information Report on the Ukrainian Communist Party." 
In June, on the eve of the CI Congress and before their defeat at the Battle of Warsaw, the Bolsheviks decided to destroy the party. As described by a UCP member in August 1920: "Our affairs here in Poltava [province] are the same as yours [in Kharkiv]: In Poltava [city] they [the Bolsheviks] appear to reckon and talk with us but out in the counties 'they are cutting off our fingers, ears and noses' [and] all according to the law." In a letter to CPU leaders, Mazurenko, Richytsky, and Kulynychenko complained about harassment and arrests despite their professed loyalty: "You have stopped playing with the notion of an independent Ukraine and, putting all your declarations into the archives, are rebuilding a single united little Mother Russia." Local CPU officials received orders: "In so far as it recognized Soviet power and has its representatives in the All Ukrainian CC … then we can include them in the work of Soviet organs. But that does not mean we recognize the UCP as genuinely communist and should relate to it loyally. Absolutely not. The obligation of every communist, party organ, and primary party organization is to wage a vicious struggle against it, revealing at every possible instance its nationalist and petite-bourgeois nature." In his Ukrainska kommunistychna partia (UKP) i Kommunistychna partiia Ukrainy (KPbU) (1921), written shortly after his return from a trip to Ukraine, the former left-wing Ukrainian minister Volodymyr Vynnychenko claimed that if it was not repressed and harassed, the UCP would double its membership within a year. Lenin, before and after taking power, demanded strict party centralization. He condemned all non-Russian Social-Democratic and, later, communist parties in the Russian imperial space and considered his to be the only legitimate SD party in the empire. He allotted only a regional status to non-Russian groups within his party that placed them on a par with Russian provincial organizations.  Lenin's 21 Conditions and Thesis to the Comintern ordered communists in colonized countries to support anti-imperialist bourgeois-led "national-revolutionary" movements or governments. What  these latter two douments did not demand, however, was  an organizational subordination of Europe's colonial leftist radicals, or communist parties where they existed, to their various metro­politan communist parties.
Within the Russian empire, the Russian SDs, the Bolshevik, and then the Communist Party, did not differ from any other Russian party in as much as they all presumed to represent the entire imperial space and all its peoples irrespective of nationality. In 1903, Lenin made it clear that his party would not be a federation of independent communist parties of the empire's various nationalities. This was reiterated in 1919 at the Eighth RCP Conference. That same year Iakov Sverdlov told party delegates at the Third CPU Conference in Kharkiv: "We are one Russian Communist party with various branches, regardless of how our old united Russia [Rossiia] will be divided, regardless of how, according to this or that political [or] international circumstance, we end up dividing the old Russia into separate Republics." Nor was anyone to doubt who would be doing the dividing: "It was we," said Sverdlov, "who created Soviet republics." Russian Feodor Artem amplified Sverdlov's point, leaving those who might have thought otherwise no doubt where power lay: "There will be one Russian [Rossiiskaia] communist party and only it will make decisions." Elsewhere he drummed: "Our Ukrainian [CPU] party is now a Russian party [applause], and those who don't want to understand that understand nothing."
This kind of thinking permitted no separate representation in the Comintern for non-Russian communist parties within the former tsarist imperial space then under Bolshevik control. This reflected not only Lenin's centralist penchant, but his belief about the temporary nature of secession from empires and that imperial borders would eventually be re-established. Lenin nowhere specified that all empires were to be reunited after socialist revolutions had temporarily separated colony from metropole, except in his writings on the Russian empire, and on Ukraine in particular. Here, he did explicitly refer to the temporary nature of political secession and condemn all talk of "separating the workers of one nation from another." Because he thought secession from the Russian empire, like non-Russian national identity within that empire, would be a temporary phenomenon, Lenin expected that all of Russia's dominated nationalities would re-enter the imperial space once it was under Bolshevik control. Bolshevik leaders, like their mentor, regarded large economic units and ethnic assimilation as "progressive" and "national self-determination" from empire as only a necessary precondition for subsequent territorial "voluntary reunion" with its new "proletarian" rulers.
Nonetheless, Bolshevik leaders recognized the Irish, Indian (until 1929), and British communist parties as separate entities, as they did the Indonesian, Dutch, Korean, and Japanese parties, and allotted each of them separate representation in the CI. Only in the French empire did communists replicate the centralized imperial Russian party structure during the early twenties. In Algeria, a communist party formed in 1924 remained subordinated to the French party, and like its parent body, opposed Algerian independence from France, much as the CPU opposed Ukrainian independence from Russia. In this context, the question inevitably arises, why the double standards? If an Irish and Indian communist party could exist independently of an English or British communist party, and if Korean radical leftists could be organizationally apart from the Japanese, then why could not a Ukrainian Communist Party exist independent of the RCP? Why one organizational standard for the Russian empire and another for the British French and Japanese empires? The Ukrainian communists attributed the reason to the imperialist and colonialist attitudes that permeated the members of the CPU in Ukraine as well as its parent body, the RCP, in contradiction to theoretical pronouncements in its propaganda.
The UCP on Bolshevik  Rule in Ukraine
Without delegate status, the Ukrainians could not present either their "Memorandum" or their Resolution on the National and Colonial Question that the second UCP Congress had adopted before the Comintern had confirmed Lenin's Thesis on the National and Colonial Question. The first document contained ideas later found in the Comintern's 1920 manifesto and in "Third World" anti-colonial Marxism. Imperialism, it explained, both developed colonial economies and created nations, while simultaneously threatening the colonized with "the destruction of their national political life as well as their national culture." Because it created a weak national bourgeoisie in backward countries like Ukraine, national liberation coincided with struggle against capitalism, and communists had to lead the national struggle to ensure it continued into a communist revolution. Inasmuch as colonized nations represented capitalism's "weakest link," national revolutions in colonized nations had to be exploited and taken beyond their "bourgeois democratic stage." Without a preceding national liberation culminating in a national state led by an indigenous party (meaning one not based in the imperial metropole), no socialist revolution was possible. Each nation had to have its own socialist soviet republic, which would then closely ally with all others.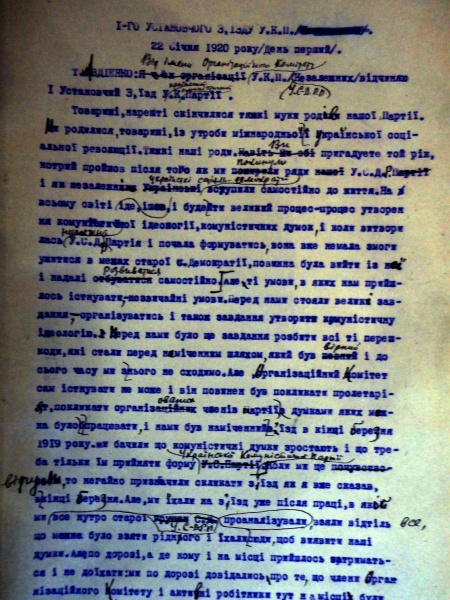 The problem in Ukraine was that its colonial legacy had left it with a large Russian urban worker-settler population isolated from and indifferent to Ukrainian interests. As a result, the RCP's agents in Ukraine, the CPU leadership, imbued with "the imperialist legacy of old Russia," ignored the national revolution. Instead of supporting and carrying this revolution through its "bourgeois" stage by creating an independent state, for three years CPU leaders had opposed that state, thereby fostering counter-revolution instead of socialism. Their internal party dictatorship, centralization, and reliance on Russian workers and bureaucrats had turned their Soviet Ukrainian republic into a "Russian [Rus.: russkuiu] occupation regime," which alienated Ukrainians from socialism and their party, provoked a "bourgeois restoration," and ignited a national war between Ukraine and Russia. Only the UCP, as an independent, indigenous party, could reverse these developments by establishing a soviet socialist republic independent of but allied to Soviet Russia:
The task of the international proletariat [the communist party] is to draw towards the communist revolution and the construction of a new society not only the advanced capitalist countries, but also the less developed peoples of the colonies taking advantage of their national revolutions. To fulfill this task, it must take an active part in these revolutions and play the leading role in the perspective of the permanent revolution, preventing the national bourgeoisie from limiting them at the level of fulfilling demand of national liberation. It is necessary to continue the struggle through to the seizure of power and the installation of the dictatorship of the proletariat and, to lead the bourgeois democratic revolution to the end through the establishment of national states destined to join the universal network of the international union of emerging soviet republics, based on the forces of local proletarian and working masses of each country, with the mutual aid of all the detachments of world revolution.
The second document, the UCP Resolution, unlike the Comintern Thesis that focused on centralization and the Russian experience as model, linked revolution and liberation with decentralization. It condemned Russian Bolshevik principles as empty rhetoric. Written by Richytsky, it begins with the standard Leninist analysis of how the national bourgeoisie in colonies, who fight against their imperialist rivals for a share of the market, first use its own population  but then turn the struggle for an independent national state against the native proletariat and working masses. For the latter, this meant that national independence without the overthrow of the bourgeoisie and a dictatorship of labor meant only a change in owners and imperial protectors. For the proletariat, freedom meant freedom from both their own and foreign bourgeoisie. The thesis then asserts that an independent state was the only means through which oppressed nations and colonies could attain their political, cultural, and economic liberation. Distinguishing between paternalistic-feudal and early-bourgeois societies, the thesis, echoing The Communist Manifesto, specifies that in the latter the proletariat can fight their own bourgeoisie if "it forms itself as a nation organized within the national framework of its country and solves its national question from the perspective of taking the bourgeois democratic revolution to completion and then struggling to establish its dictatorship." The only way a former colony can be transformed into a soviet republic, equal in status to its former metropolitan center, is if it is independent. Each national proletariat has to free the productive forces of its own country from dependency on the "artificial industrial and financial centers of the former metropolis" and control its own economy.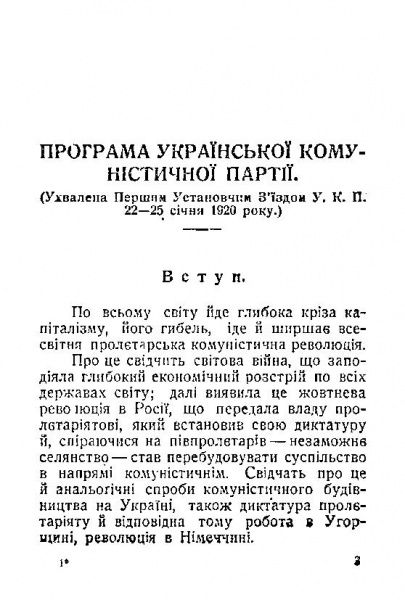 The "October Revolution," which took place in a "multinational colonial empire," was the first to place this historical national program before the proletariat, but "the Russian proletariat failed to rise to the occasion." Avoiding direct condemnation of Russian party leaders, Richytsky explained that it was the chauvinist and colonialist attitudes of the "Russian proletariat," which Lenin supposedly foresaw, that had turned Ukraine's class struggle into a nationalist war that only helped imperialist interventionists. "Soviet power in many former outlying regions (Ukraine, Turkestan, Belarus) was taken by colonialist, petite bourgeois, settler-peasant, bureaucrat, and Russian intellectual elements that exploited bolshevism for their own nationalist purposes." Terminating these nationalist relationships meant destroying "single and indivisible" Russia, the psychological notion that it comprised a "center" with "regions," and transforming what had been the empire into a union of independent, federated, united "Soviet Republics of the East." For the Ukrainian proletariat, the national and colonial question involved terminating colonial ties with Russia and freeing its productive forces from dependency on the old center. The Ukrainian proletariat had to be raised to the level of a national class, and Ukraine demanded the termination of all bureaucratic ties to Moscow:
The question of development of soviet statehood in forms appropriate to the national specificities of various nations, [including use of] their languages in administration was decided, formally, by the ruling Russian Communist Party in all the former outlying regions of Russia. However, because elements of the russifying petty bourgeoisie and intellectuals usurped soviet power thanks to the weakness and low level of class and cultural development of the proletariat and workers and, the separation of the workers aristocracy of the former non-state nations from the people because of russification, this issue is still far from resolved. The entire [governmental] apparatus of the Ukrainian RSR is filled with russifying elements, its language is Russian, it even strongly opposes using Ukrainian, assimilating even those few Ukrainian elements in it and thus, [the apparatus], bureaucratically isolated by its desks from the masses, is objectively becoming a tool of russification. That is why the call for Ukrainian as the state language is and long will be relevant, and it is the task of the Ukrainian Communist Party to advocate for it.
In July 1920, without delegate status or a newspaper, a third UCP document, the Declaration to the Comintern, also remained unpublished and unknown. It stressed that Russian Bolshevik promises about language-use, autonomy, and soviet rather than Revkom [revolutionary committee – ed.] rule, had been made under duress. They had been forgotten as soon as convenient, and because of such policy "zigzags," no one believed any declarations anymore. It stressed that Bolshevik promises about language-use and autonomy were meaningless. The only thing Ukrainians saw was the Red Army, an "organized foreign (Russian) military force" sweeping through their country "as if it were a foreign country." The Russians who followed and dismissed everything Ukrainian as "counter-revolutionary," fanned popular resistance and turned what should have been a class war into a national war against imperial restoration.
Other Ukrainian ideas the Bolshevik leaders preferred foreign Congress delegates not hear were in a February 1920 letter to CPU leader Dmitry Manuilsky. Mazurenko explaining that communists had to temporarily exploit nationalism in the interests of revolution just as they used the state – otherwise their enemies would exploit it themselves. Mazurenko here anticipated an idea Lenin  expressed five months later at the Second Comintern Conference:
For us, communists from colonies, the paths and means required on a given territory [to rebuild] are more visible and obvious than they are for those who worked and [continue to] work in the metropole. What is now happening in Russia will also happen in England, the Balkans, Asia and elsewhere; Ukraine, Ireland, India, Macedonia, and on and on. Revolution there will have the nature of national economic liberation and the national movement there will be a revolutionary factor, if the party of the revolutionary proletariat can take it in hand and use it as it should be used.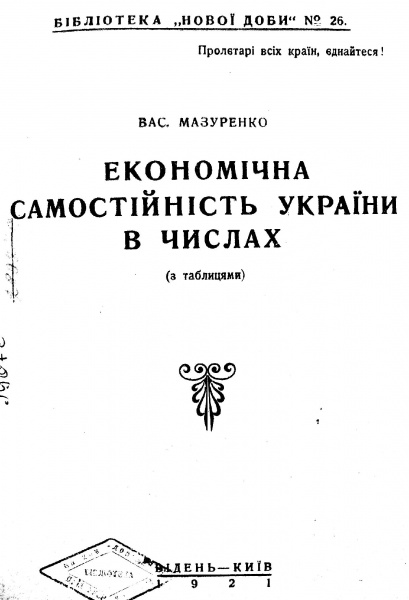 Decentralizing the old imperial structures was as necessary as establishing a dictatorship of the proletariat on each given territory of each given nationality that would control the economic life of each given nationality. As a temporary expedient, former imperial economies had to be decentralized and placed in the hands of national states controlled by the local proletariats. This would ensure that "capitalists" could not use those states against the "proletariat" and that nationalism would not be used to "divide the proletariat." These national states could then begin to deal not only with chauvinist tendencies within the petite bourgeoisie but also with "that section of the proletariat that still suffers from it."
Richytsky and Mazurenko summarized their position in a letter to Lenin that July – to which there is no known reply. They wrote that local Bolshevik leaders and the leaders of Red Army units were treating Ukraine like a hostile territory and were following Russian policies that were totally inappropriate to Ukrainian conditions. Despite six months of stability, they were still relying on Revkoms rather than soviets. Local officials were labeling everything with "a more or less Ukrainian character" as counter-revolutionary. To repress the resulting hostility, they were using "Russian weapons " and turning what was supposed to be a class war into a war between nations. In addition, local Bolsheviks had submitted to the "old inertia" that demanded the total subordination of Ukraine to the Muscovite center, and this had resulted in a policy to reconstruct the "single and indivisible [Russian empire]." For these reasons, the UCP opposed Russian communist policies and wanted "to make a Ukrainian revolution and Soviet power with Ukrainian internal forces considering its specific circumstances." Mazurenko and Richytsky condemned the cynical nature of concessions extended to Ukraine and complained that local Russian chauvinist Bolsheviks, emboldened by the recent victory against Poland, were harassing and repressing UCP members.
When Soviet power is endangered or suffers setbacks, 'ukrainophile' politicking begins; that is, games with slogans about an independent Ukraine and suchlike; and they run to us for help in the political struggle against Petliura [the leader of the Ukrainian National Republic – ed.] because they feel themselves impotent. And when the front is pushed back, then, accordingly, the politics change for the worse, and this, in turn, adversely affects the front. These zigzag Ukrainian policies result in the masses no longer believing in any of the leaders' statements and declarations. And one village party cell (in Osnova) characterized the work of the CPU with this classic statement: "our work among Ukrainians is the same as work among the Turks, Arabs, etc."
Because the Russian chauvinist wing [russotiapske techenie] dominated the Bolshevik party, Ukrainian communists could not focus on the struggle against Ukrainian nationalism but had to divert their energies against Russian chauvinism. Mazurenko and Richytsky concluded with the hope that the leader would understand what local Bolsheviks seemed not to: that a "secret Great Russian chauvinist centralism is disorganizing and dividing revolutionary forces in Ukraine – and in all the colonial [sic] borderlands of the former empire."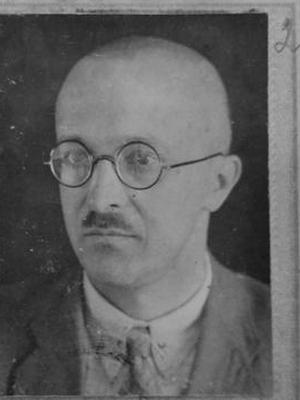 A final set of arguments Bolshevik leaders preferred kept out of Congress debates was in Vasyl Mazurenko's book Ukraine's Economic Independence in Numbers [Ekonomichna samostiinist Ukrainy v tsyfrakh] (Vienna, 1921). Here he argued that, from a socialist perspective, there was no economic rationale for the centralization Bolsheviks were imposing within their territories other than they led to power for Moscow, and dependency and exploitation for non-Russian republics. Written in 1920, it is unknown if Mazurenko had a draft version with him in Moscow, however, he and other leaders had already formulated the books' basic arguments and ideas and had published related articles in their newspaper through 1919. This book statistically demonstrated that Ukraine needed manufactured imports from Russia because of decades of colonialist imperialist exploitation. Noting that Russian publications referred to Ukraine and Poland as "Western borderlands," Mazurenko asked why the Foreign Ministry wrote books condemning England's exploitation of India, while, simultaneously, the Trade and Economics Ministry wrote about "reuniting the manufacturing capacity of united Russia." If Russian comrades used economic argument to justify Indian independence, then they should also use it to justify Ukrainian independence. "Russians who talked about "reuniting our borderlands" so as to "recreate the industry of united Russia," were like those English who thought in terms of "our inseparable borderland India," and that England would die without its colonies.  Mazurenko explained that factories producing goods in Russia from raw materials imported from Ukraine constituted an economic system of a metropole and an exploited colony. Ukraine must have no more and no less independence than would a soviet Germany or Italy. He wrote that the Comintern had to be told to: "save communism from Muscovite imperialism!"
Conclusion
By keeping UCP leaders with such ideas away from the Congress podium, the sordid issue of Bolshevik policies in Ukraine  – a renewed Russian imperialism painted red ­– remained out of the sight and minds of foreign delegates. Their absence gave credence to official claims and to sympathizers like Steffens and John Reed.  Their absence cast doubt on detractors like Bertrand Russell who, one month after the Congress, concluded Bolshevik Russia was a nightmare.
Against this background, Russian government representatives and propagandists today find it easier than it otherwise might have been to utilize, as agents of their revanchist aggressive foreign policy, foreign leftists who are predisposed to think that in Ukraine such policy does not amount to imperialism redux, and who support that imperialism together with fascists and neo-Nazis – as happened in 1939-41. As such, in 2014 the Kremlin's extreme right and radical left agents formed a pro-Russian anti-EU alliance in the European Parliament.
This article was edited by Grace Mahoney and Oleh Kotsyuba.